[symple_column size="two-third" position="first"]
Kristi loves three things: cats, food, and the sound of her own voice. She's always dreamed of being the voice behind the mic, so radio was a natural fit. When she's not on the air, she's usually practicing voices for her anime roles at Funimation or going roller skating. She can also tell you entirely too many stories about her feline furchildren Dottie and Papa, if you'll let her.
Kristi stands just tall enough to tower over even the most giant third graders, so blink and you might miss her. Don't worry, though, because she'll bring enough energy for everyone.
[/symple_column] [symple_column size="one-third" position="last"] [symple_box color="gray" text_align="left" width="100%" float="right"]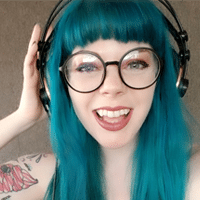 Mon-Fri | 6a-9a
[/symple_box] [/symple_column]